You can substitute ground pork for ground turkey, chicken and beef and the results will be the same – a spicy savory meal that cooks up in less than 15 minutes.
The fish sauce, lime juice and cilantro all give the dish that wonderful zip and freshness that Thai cuisine is known for.
Serve with rice and a fried egg or as a filling for lettuce wraps. Either way, you'll love it.
Spicy Thai Pork Stir Fry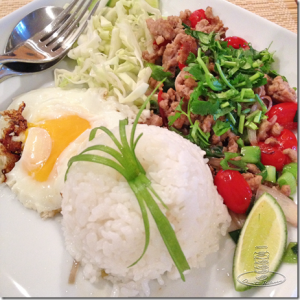 Ingredients
makes 2 servings
ground meat (use about 8 oz)
1 medium tomato or a handful of grape tomatoes, roughly chopped
half a medium shallot, thinly sliced
scallions, diced, about a handful
cilantro, a few sprigs, finely diced
fish sauce to taste
cooking oil, 1 tablespoon
half a lime, cut into wedges
Method
 
Heat oil in a skillet until hot
Add ground meat and use a spatula to break up chunks
Cook meat until browned
Add shallots, tomatoes and scallions and cook for 2 minutes
Add fish sauce and stir in cilantro
Serve with lime wedge
Serving Suggestions
Great with rice and a fried egg
Include a small salad of thinly shredded cabbage and cucumbers
Use as filling for lettuce wraps and tacos
---