Are you looking for your Maybelline Superstay foundation shade? Are you also looking for Maybelline Superstay foundation swatches?
In this shade guide, you'll find tips on picking the correct Superstay foundation shade and Maybelline Superstay foundation swatches.
Frequently Asked Questions about Maybelline Superstay Foundation Shades
Question: What is the difference between Maybelline Superstay foundation shades Ivory 115 and Classic Ivory 120?
Answer:
Ivory is for fair, neutral skin.
Classic Ivory is for light, warm skin.
Question: Who can wear Maybelline Superstay Sun Beige 310?
Answer: People with medium skin that is around MAC NC40.
Maybelline Superstay Foundation Review
If you are not familiar with the bestselling Maybelline Superstay foundation, then here's what you need to know about the Maybelline Superstay foundation:
It is a long wearing foundation that lasts all day
It's great for hot weather because it is humidity and sweat-proof
Very pigmented formula with full coverage that will cover everything
Leaves behind a natural-looking satin finish
It's best for combination/oily skin
Comes in 24 shades
It is so affordable!
Tips on Finding the Correct Maybelline Superstay Foundation Shade
To use this shade finder, look for your skin tone depth (Fair, Light, Medium, Dark and Deep).
Then find your undertone (Cool, Warm, Neutral) to find your perfect shade match.
Maybelline Superstay Foundation Swatches
Fair, Cool Skin
Maybelline Superstay Foundation in 105 Fair Ivory
Fair, Warm Skin
Maybelline Superstay Foundation in 102 FAIR PORCELAIN
Maybelline Superstay Foundation in 110 Porcelain
Fair, Neutral Skin
Maybelline Superstay Foundation in 112 Natural Ivory
Maybelline Superstay Foundation in 115 Ivory
Light, Warm Skin
Maybelline Superstay Foundation in 120 Classic Ivory
Maybelline Superstay Foundation in 127 Sand Beige (NEW SHADE)
Maybelline Superstay Foundation in 128 Warm Nude
Maybelline Superstay Foundation in 140 Light Tan (NEW SHADE)
Light, Neutral Skin
Maybelline Superstay Foundation in 118 Light Beige
Maybelline Superstay Foundation in 125 Nude Beige
Maybelline Superstay Foundation in 130 Buff Beige
Medium, Warm Skin
Maybelline Superstay Foundation in 310 Sun Beige
Maybelline Superstay Foundation in 312 Golden
Maybelline Superstay Foundation in 330 Toffee
Maybelline Superstay Foundation in 340 Cappuccino
Medium, Neutral Skin
Maybelline Superstay Foundation in 220 Natural Beige
Maybelline Superstay Foundation in 320 Honey (NEW SHADE)
Maybelline Superstay Foundation in 332 Golden Caramel
Dark, Neutral Skin
Maybelline Superstay Foundation in 355 Coconut
Maybelline Superstay Foundation in 360 Mocha
Deep, Warm Skin
Maybelline Superstay Foundation in 375 Java
Deep, Neutral Skin
Maybelline Superstay Foundation in 370 Deep Bronze
Maybelline SuperStay Foundation Shade Guide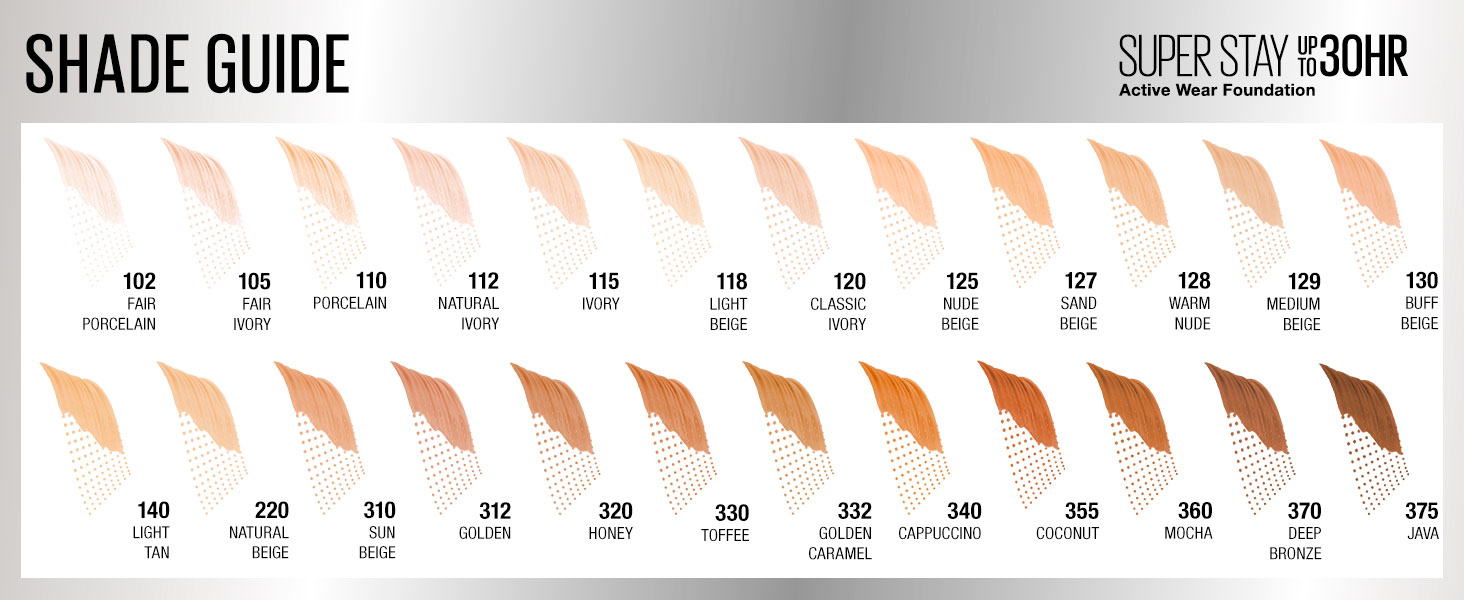 Foundation Matcher
Foundation and concealer shade finders
Popular foundations and concealers
Shade Finders By Skin Tone
Skin Tone Visual Guide
MAC Foundation Shades for Indian Skin
Light and Beige Skin Tones
Medium Skin Tones
Blush Shade Guides
Blush for Fair Skin
Blush for Medium Skin
Image credits: https://www.maccosmetics.com, www.amazon.com