A few days ago, I was craving mi goreng (mee goreng), a sweet-spicy noodle dish popular in Indonesia, Malaysia and Singapore. It's a common dish in these parts and really easy to whip up at home.
Unfortunately, I didn't have the requisite yellow noodles (aka Hokkien noodles) on hand. So I decided to use spaghetti noodles and I must say, the results were astounding! Even Uncle Belacan, who initially sniffed at the spaghetti goreng, thought it was delish!
March 2017 Update: I spoke to a Malay friend from home recently and she confirmed that lots of Malays use spaghetti to make mi goreng, especially when you find yourself away from Singapore and craving mi goreng!
My Mi Goreng
makes 3-4 servings
Ingredients
spaghetti noodles, cooked according to package's instructions, then drained well (I used about 1/2 the package)
1 medium onion or shallot, thinly sliced
1 block of tempeh or firm tofu, cubed (about 1/2 cup)
a large handful of green leafy vegetables (I used baby spinach and cabbage because that's what I had on hand), washed, trimmed and cut into 3 inch sections
1-2 medium tomatoes, cut into medium-sized chunks
3 tablespoons of oil
3-4 tablespoons of kecap manis (sweet soy sauce)
fish sauce to taste (about 2 tablespoons)
sambal belacan chili paste (see recipe below)
Method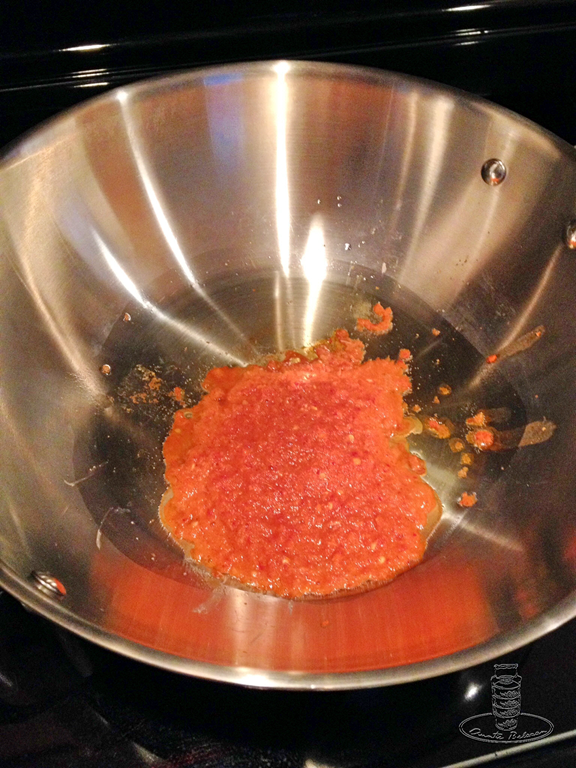 Add oil to a large wok and fry onions/shallots
Pour sambal belacan paste into wok and fry for a few minutes
Add tomato, tempeh/tofu and greens and cook for a few minutes
Add drained spaghetti noodles and drizzle kecap manis over noodles
Toss and stir noodles well
Add fish sauce to taste
Garnish with thin sliced red chili peppers and scallions
 Sambal Belacan Chili Paste
1 medium red bell pepper, cut into medium-sized chunks
1-2 bird chilies or 2-3 red long chilies (chilies vary in heat; adjust accordingly to desired spice level)
4-5 inch long piece of lemongrass, finely sliced
1 teaspoon of sugar
juice from 1-2 small limes or half a large lime
50 grams (1.7 oz) of belacan (shrimp paste), toasted in oven or frying pan until it smells shrimpy and pungent
1-2 tablespoons of water (use more water to achieve the consistency of a thick coarse paste)
Blend everything in a blender until it resembles a coarse thick paste.