Note about spring roll wrappers: You can find frozen spring roll wrappers at most Asian supermarkets. I always keep a pack in my freezer because they are also great for desserts!
I use spring roll wrappers to make these amazing Sweet and Crunchy Banana Spring Roll Desserts.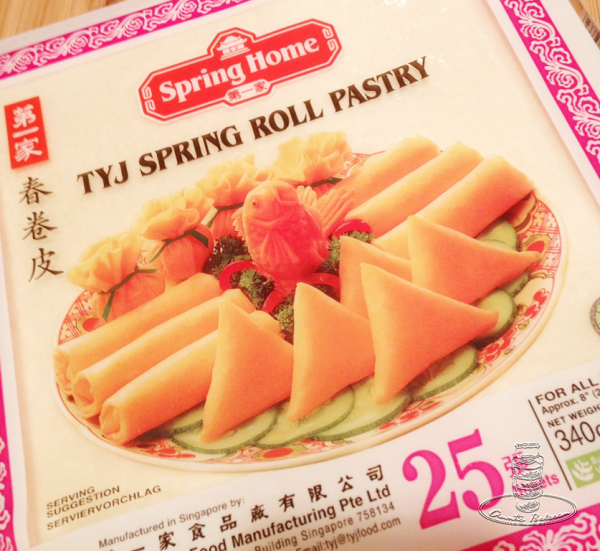 Folding samosas might seem challenging but it's actually really simple. With a little practice, you can turn these out in minutes!
Check out our step-by-step guide below: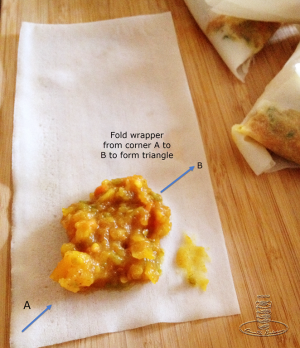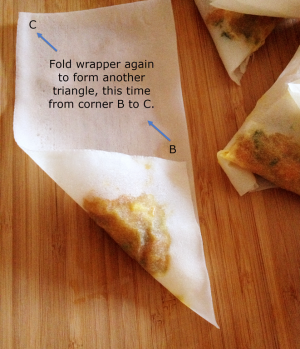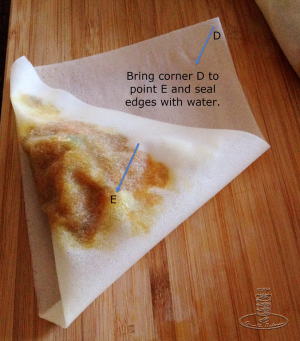 Samosa Filling (Vegetarian)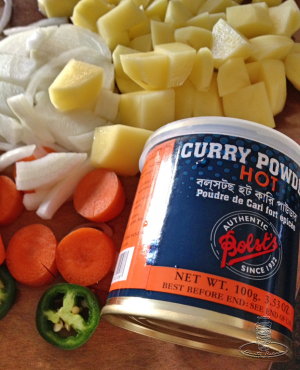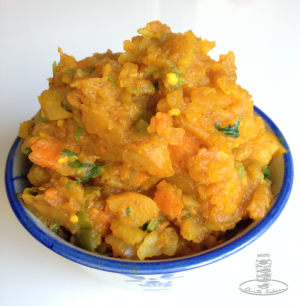 2 tablespoons of oil
1 tablespoon of curry powder
2 medium potatoes, cubed
1 small carrot, cubed
half of a small onion, thinly sliced
1/2 cup of water
salt
Method
Heat oil in sauce pan over medium heat
Add curry powder and fry for 1 – 2 minutes
Add all the other ingredients and cover pan
Stir and cook until potatoes and carrots are soft enough to mash. About 10 minutes
Add more water if necessary but don't add too much – you want a fairly dry mixture
Mash well
Taste and season with salt
Quick and Easy Samosa and Spring Roll
Spring roll pastry wrappers, cut in half (you'll need half a wrapper per samosa)
Oil for frying (about half an inch worth)
Samosa filling (see above)
Method
Cut spring roll wrapper in half. Place about 1 tablespoon of filling on each wrapper and fold as instructed (see photos above).
Heat oil in a medium sauce pan over medium heat.
When oil is hot, gently place samosas in pan and fry both sides of the samosas until golden. About 2 minutes on each side.
---