Looking for the best way to cook pork belly slices?
I am not a big meat-eater, but I don't think I can ever say no to a dish of crispy pork belly.
Seriously. Just look at it.
You can almost smell the bacony sizzle and taste the crunchy pork.
I make this a lot for people and I haven't met one who didn't oohed and ahhed over this.
If you are looking for a simple dish that will impress a meat-lover, then I recommend you make this.
A lot.
Best Way to Cook Pork Belly Slices: Crispy Pork Belly Stir Fry
makes 2 servings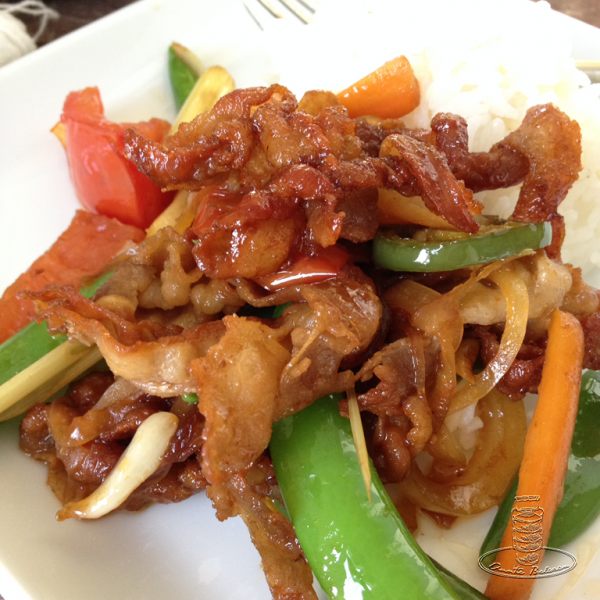 Pork belly, thin sliced, about 1/2 lb
Onion, thin sliced, about 1 cup
Garlic, thin sliced, about 3-4 cloves
Sugar snap peas, 1 cup
1 medium tomato, cut into medium chunks
1 jalapeno pepper, thin sliced (optional)
Carrot, cut into matchsticks, about 1/4 cup
Fish sauce, 2 tablespoons
Kecap manis (sweet soy sauce), 2 tablespoons
Method

Heat a wok over medium heat and add pork belly
Cook pork belly on all sides until golden brown and slightly crispy
Add all the other ingredients except for the fish sauce and kecap manis
Stir occasionally to make sure pork belly doesn't burn
When vegetables are cooked (about 5 minutes), add fish sauce and kecap manis, and stir to mix
Serve with rice
Serving Suggestions
Serve pork belly with lettuce leaves to make lettuce wraps.
Serve on corn tortillas as pork belly tacos…sooo good!