These banana spring rolls are one of my most requested desserts because they come out so fantastically crunchy and sweet. If you do make these, be sure to make extra because they disappear fast!
To make these crispy spring rolls, you only need 3 ingredients: bananas, spring roll wrappers and oil.
That's it!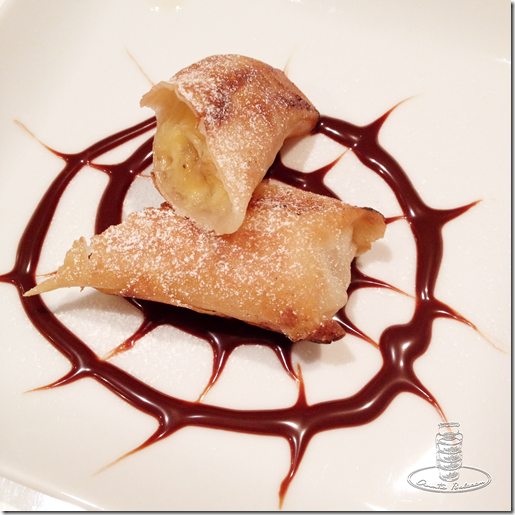 Making these spring rolls are a piece of cake – just cut a banana in half, roll it away from you, tuck in the ends and seal with water.
It took me all of 2 minutes to make 4 banana spring rolls. Including frying time, these take about 15 minutes from start to finish.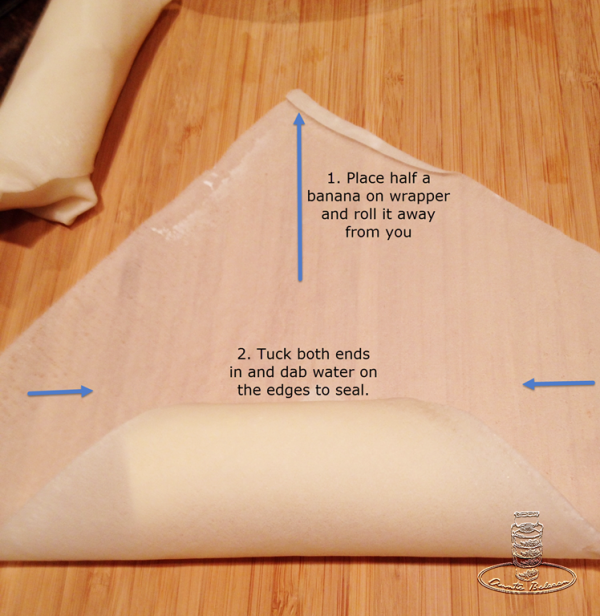 Spring roll wrappers (these are made in Singapore!) can be found in the freezer aisle of most Asian supermarkets and require about 20 – 30 minutes to thaw at room temperature. I like to leave mine to thaw in the fridge overnight.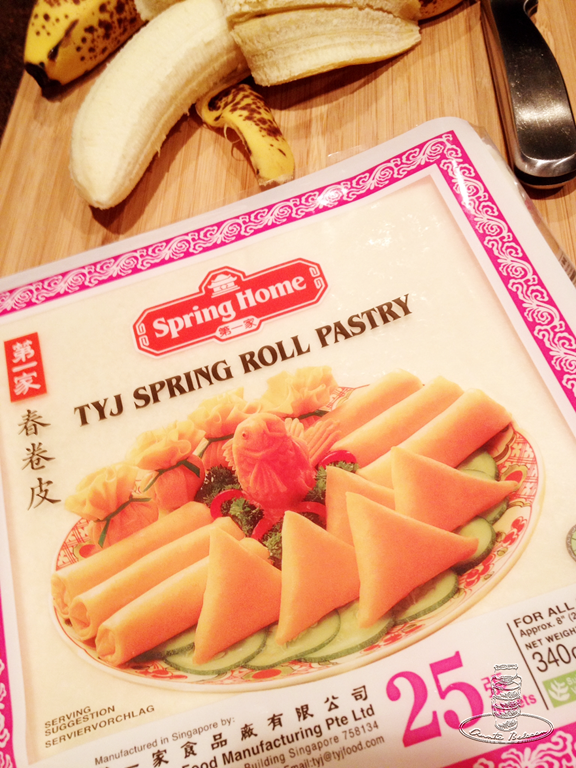 Sweet and Crunchy Banana Spring Rolls
makes 4 spring rolls or 2 servings
ripe bananas
spring roll wrappers (4 sheets)
oil for frying
Method

Cut a medium banana in half and wrap in a single sheet of spring roll wrapper (see photo above for instructions)
Heat about 1 inch of oil in a small saucepan over low to medium heat
Once oil is hot, place banana spring rolls gently into pan and fry until golden brown on all sides. About 2 – 4 minutes
Drain spring rolls well on paper towels
Sprinkle with confectioners' sugar if desired
Serving Suggestion
If you have a few minutes to spare, try making a chocolate spider web for the banana spring rolls! Everybody loves it!
Chocolate spider web:
Use a squeeze bottle to dispense chocolate sauce onto a plate to form a spiral pattern
With a clean toothpick, drag the sauce towards the outer perimeter of the spiral from the center
Repeat until you have the desired number of 'spokes'
Place banana spring rolls on the spider web and serve immediately