Sensory play is a wonderful way for kids to learn about their world.
It gives them language skills to describe textures, smells, viscosity, color and more.
Handling items of varied textures and smells stimulates all of their senses and lets them learn about their world.
Even very young babies can engage in sensory play with food items like yogurt, Jell-O, ice, water and squishy fruit.
Sensory play can get messy!
Limit the mess by spreading an old bedsheet, tablecloth, picnic sheet or towel on the floor before play. This will help make cleanup a snap.
1. Water beads
Kids of all ages love water beads! 
Even an old kid like me couldn't stop squealing when I saw them.
They are squishy and so fun to play with!
The water beads are super tiny at first, but after soaking in water for a few hours, it'll magically transform into rainbow balls!
Try putting the beads in a water table, plastic storage box or baby bathtub and let your child go wild.
Tip: these water beads are made of non-toxic polymer that is biodegradable and will break down in a few days.
2. Stale food box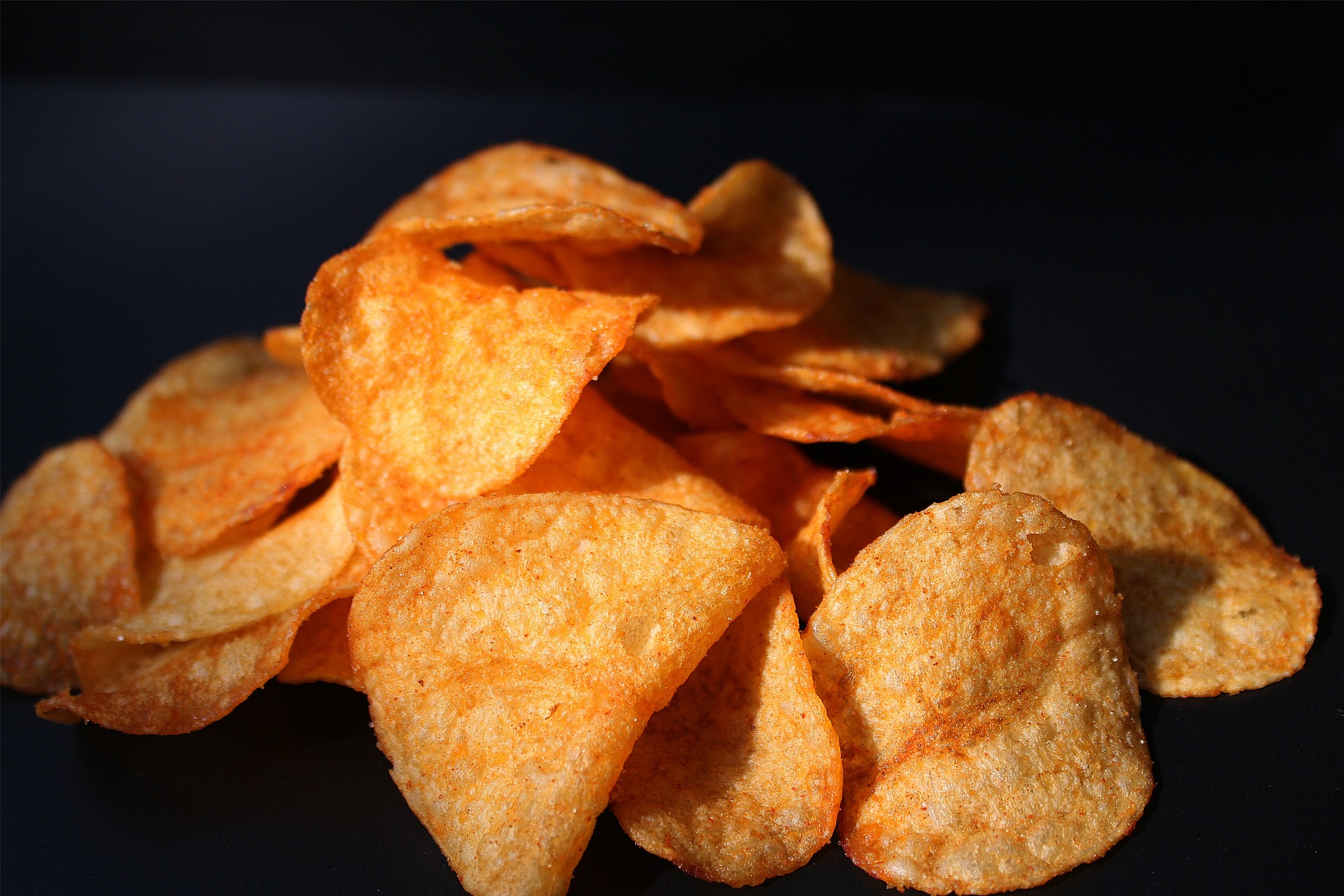 Don't throw out those stale chips!
Put them in a box and let your kid crush and smash it anyway they like!
Throw in a toy hammer, wooden spoon, funnel and sifter and watch them experience different textures and smells.
Try stale crackers, instant noodles, cereal and cookies!
Great for all ages.
3. Goopy fun
Making goop is seriously easy. You'll need: corn starch, a few drops of food coloring and water.
The corn starch to water ratio varies, depending on how thick you like your goop.
Start with a ratio of 4 parts corn starch to 1 part water, stir and add more water as needed.
Mix in 1-2 drops of food coloring for colored goop.
Color experiments: make up a few cups of colored goop and let your kid do mix up the colors.
In summer, we do this activity outdoors where she can make a mess and cleanup is an easy garden hosing away.
On rainy days, I'll pop her in the bathtub with a few cups of goop where the mess is contained and the cleanup is a breeze.
4. Bubbly fun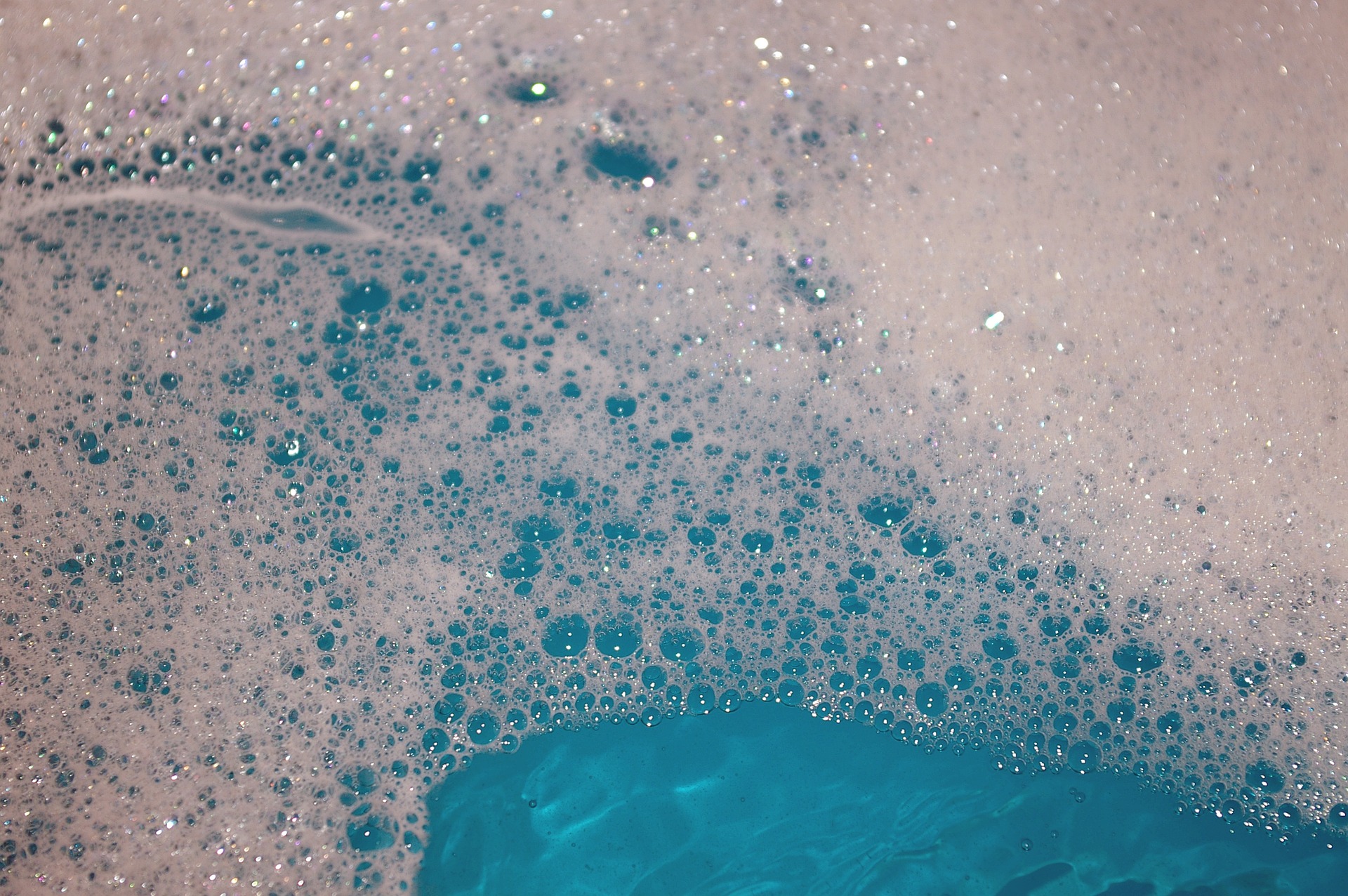 This is a fun and low mess bathtub activity.
Place a baby bathtub or plastic box in the bathtub and fill with water.
While the water is running, squirt some bubble bath into it.
Give your kid a kitchen whisk and let them whisk up more bubbles.
Add a few drops of food coloring and throw in some bath toys and a few glow sticks for novelty.
Tip: place a non-slip bath mat under your child to prevent accidental falls. Do not leave your child unattended; it doesn't take much water for a small child to drown accidentally.
5. Moon sand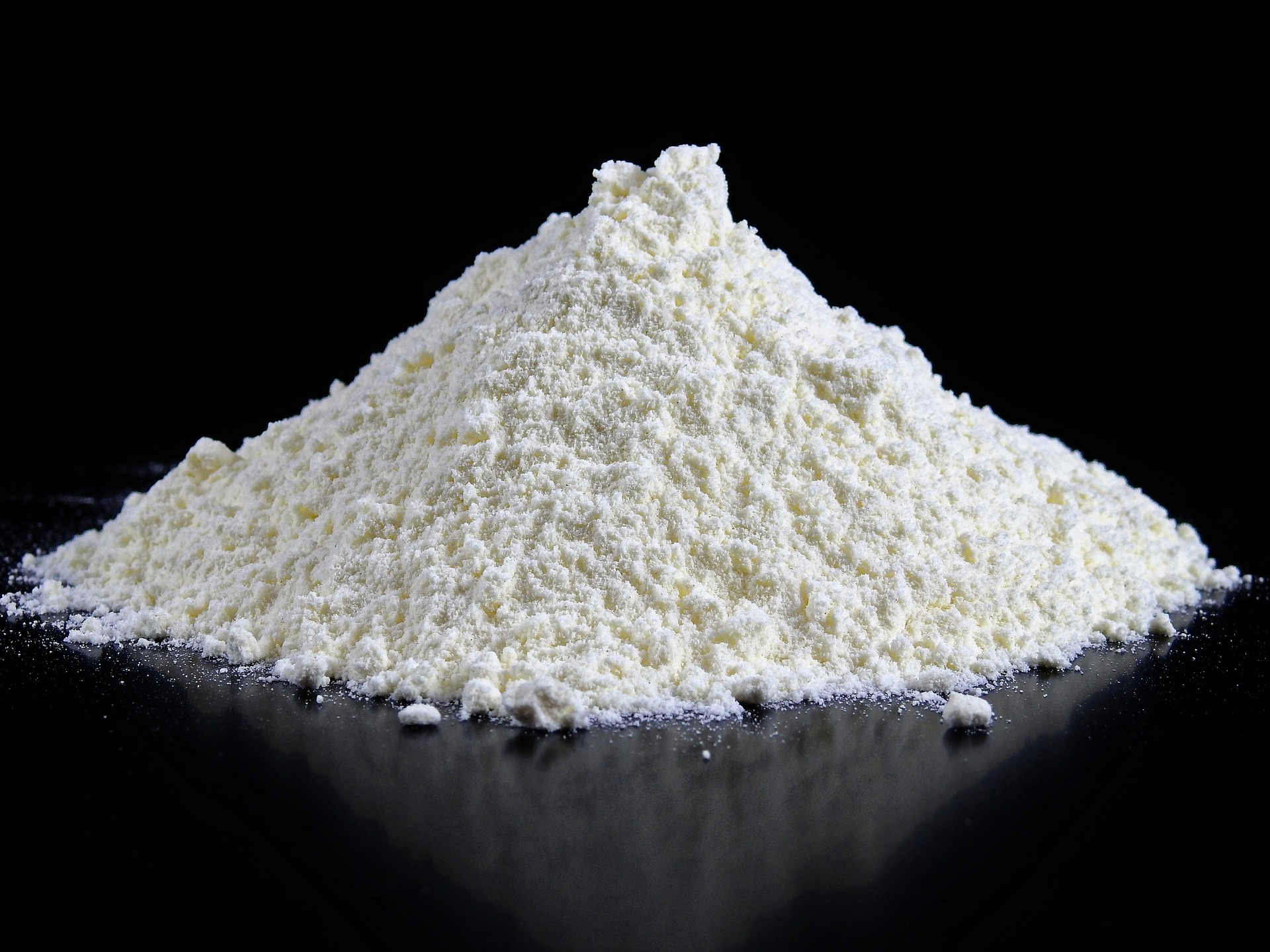 Rain keeping your kid away from the outdoor sand pit?
No worries, just make up a moon sand pit!
All you need is a large plastic box, flour and oil.
Mix together 8 cups of flour and 1 cup of oil (mineral or vegetable) by hand or with a kitchen mixer.
You'll end up with uniquely soft sand that kids of all ages would love.
Throw in a few measuring cups and toys, and tada! An indoor mini sand pit!
Tip 1: Moon sand play is messy, so lay down a tablecloth, picnic sheet or large towel for easy clean up.
Tip 2: Don't want to make moon sand? Try using cornmeal. You'll get a dryer but still sand-like experience.
6. Colored water pouring station
This one is super easy to prep and guaranteed to keep your kid busy.
Fill jugs and bottles with water, and add a few drops of food coloring to make colored water.
Pass out cups and funnels, and start pouring and mixing!
We do this activity often on our covered porch and it looks like a cute lemonade stand!
When it's too cold out, we move this activity to the bathtub.
7. Glowing bath time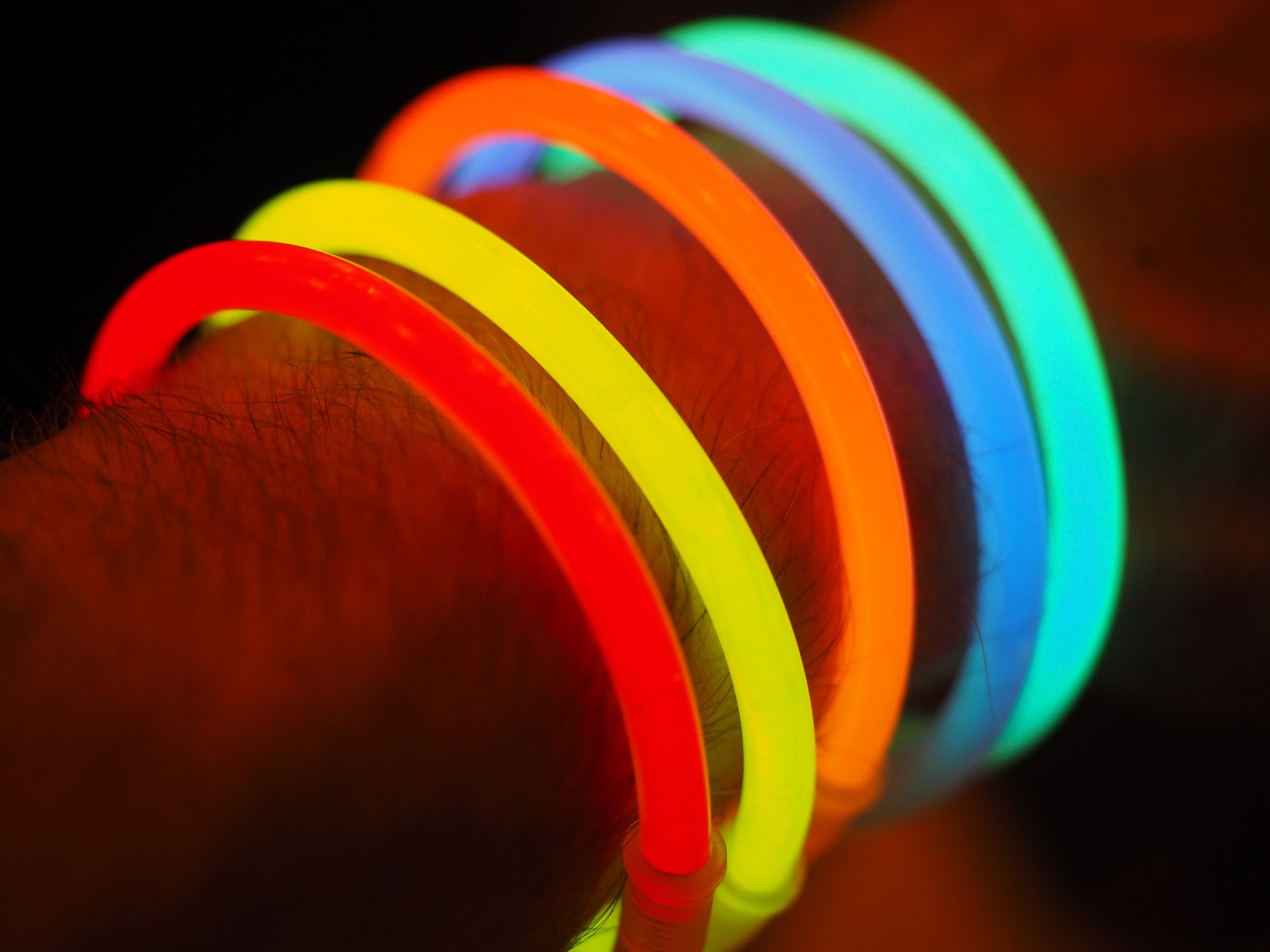 Turn a cozy warm bath into a mysterious adventure!
Turn of all the lights and throw in a bunch of glow sticks and watch your kid marvel at the supernatural glow!
Toss in a few bath toys and watch them splash and squeal with delight!
Tip: find glow sticks at the dollar store.
8. Shower or tub painting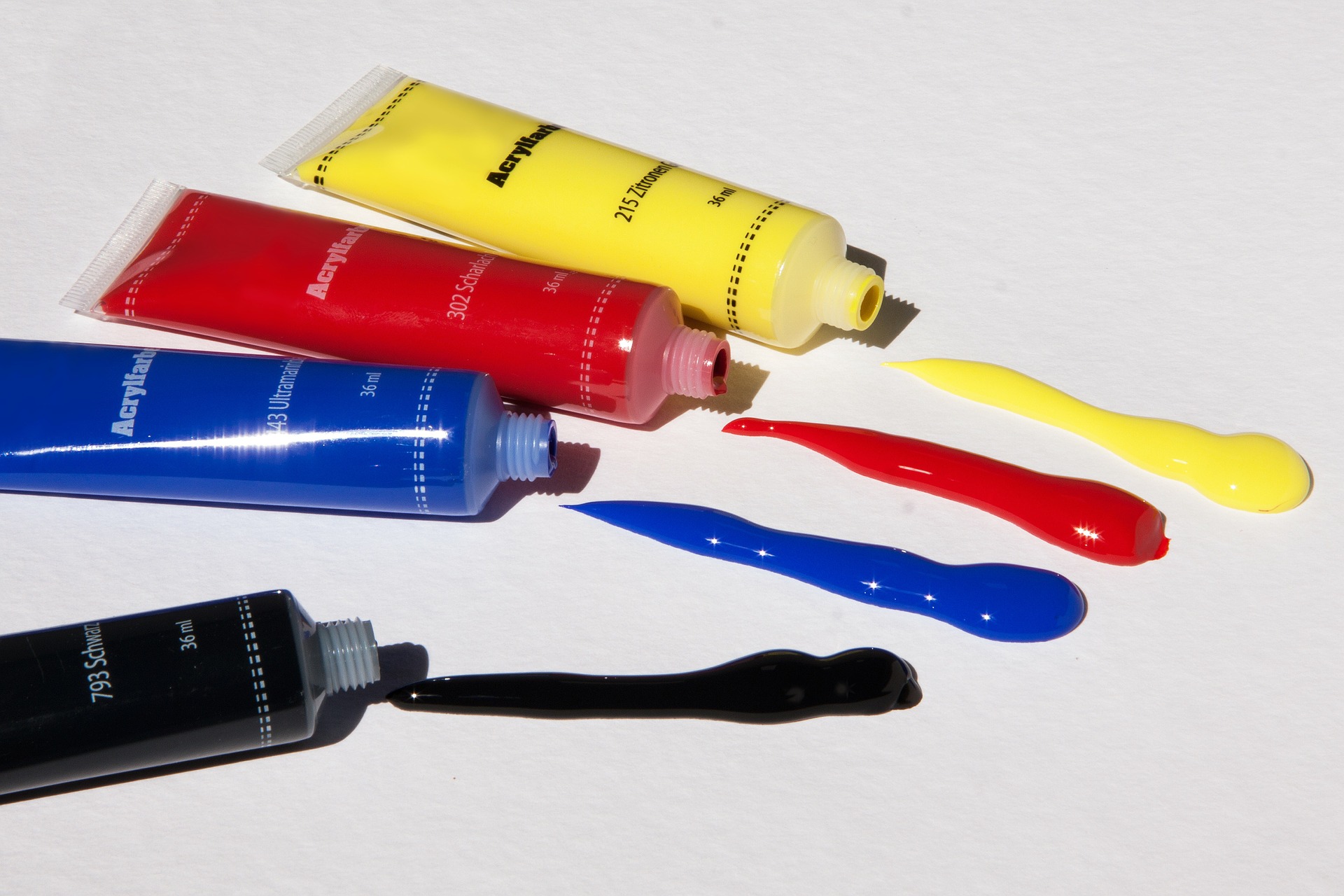 This is a great activity for kids of all ages and cleanup is super easy!
Just hand them some washable paint and let them finger paint the shower or bathtub.
No finger paint?
Shaving cream + drops of food coloring will work in a pinch.
If your child is still mouthing objects, let them "paint" with yogurt.
You can also mix in berries to make colored "yogurt paint".
9. Ice excavating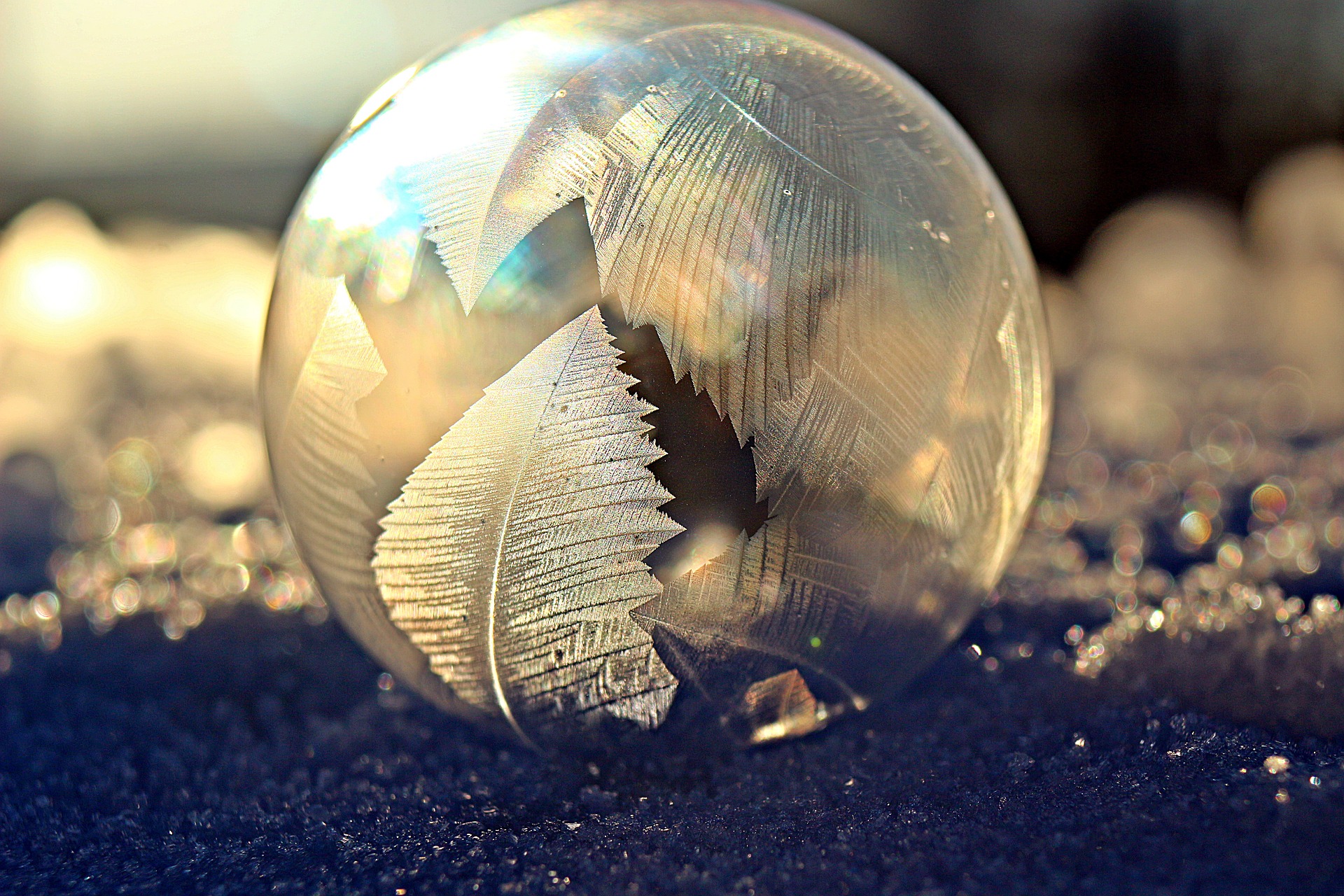 Freeze a bunch of toys, flowers and small items in colored water, and let your child explore the ice block in a tub.
Give them a toy hammer and water to thaw the ice block.
They'll enjoy "excavating" the items from the ice.
Tip: silicone ice pop molds are excellent for this activity.
10. Shaving foam party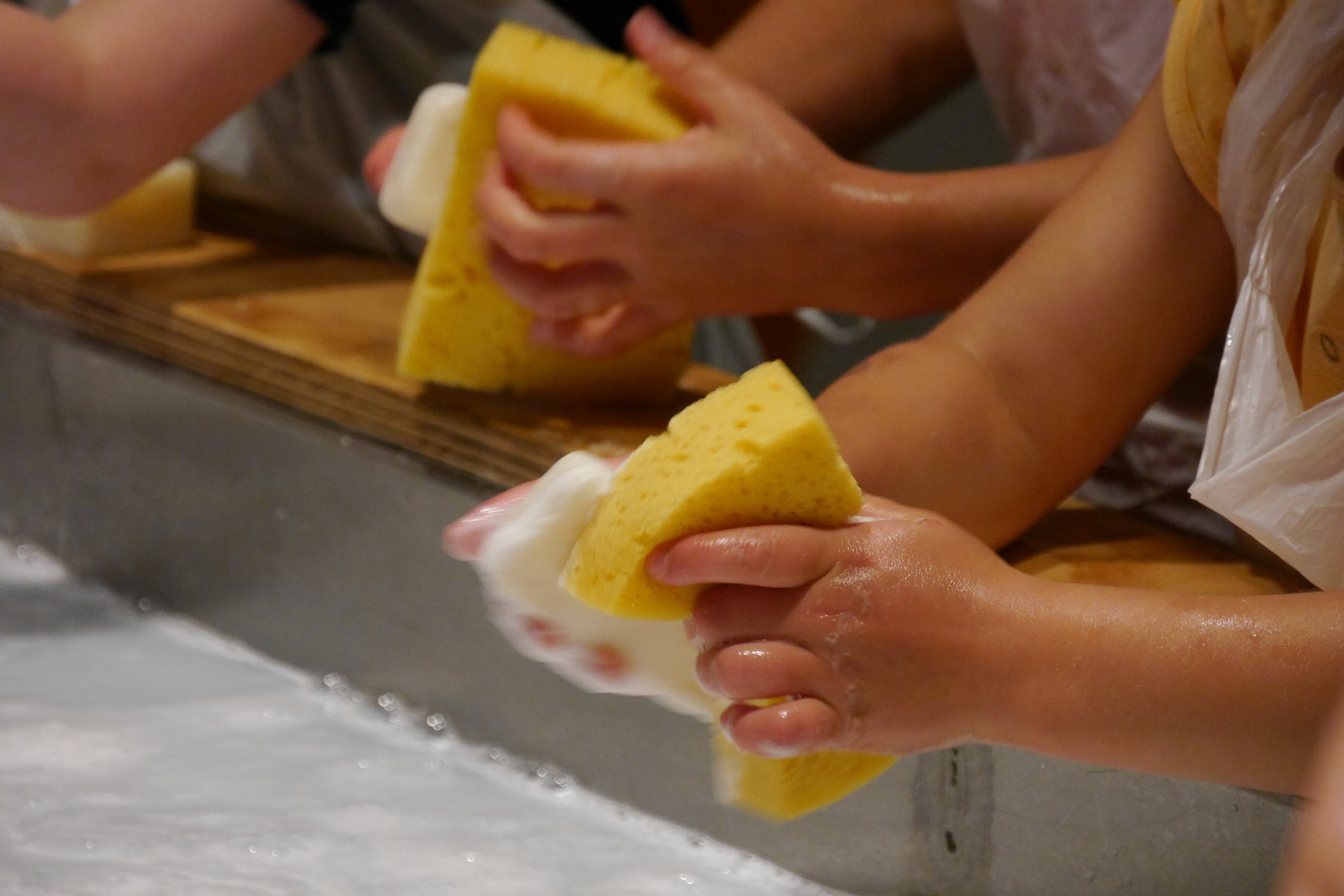 "Borrow" daddy's shaving cream for some rainy day fun!
 Squirt some into a baby bathtub or plastic box and watch your kid have a blast!
Throw in some toys to really get the foam party going!
Afterwards, mix in a few drops of food coloring and let them paint the bathtub or shower walls with it. 
11. Scented paint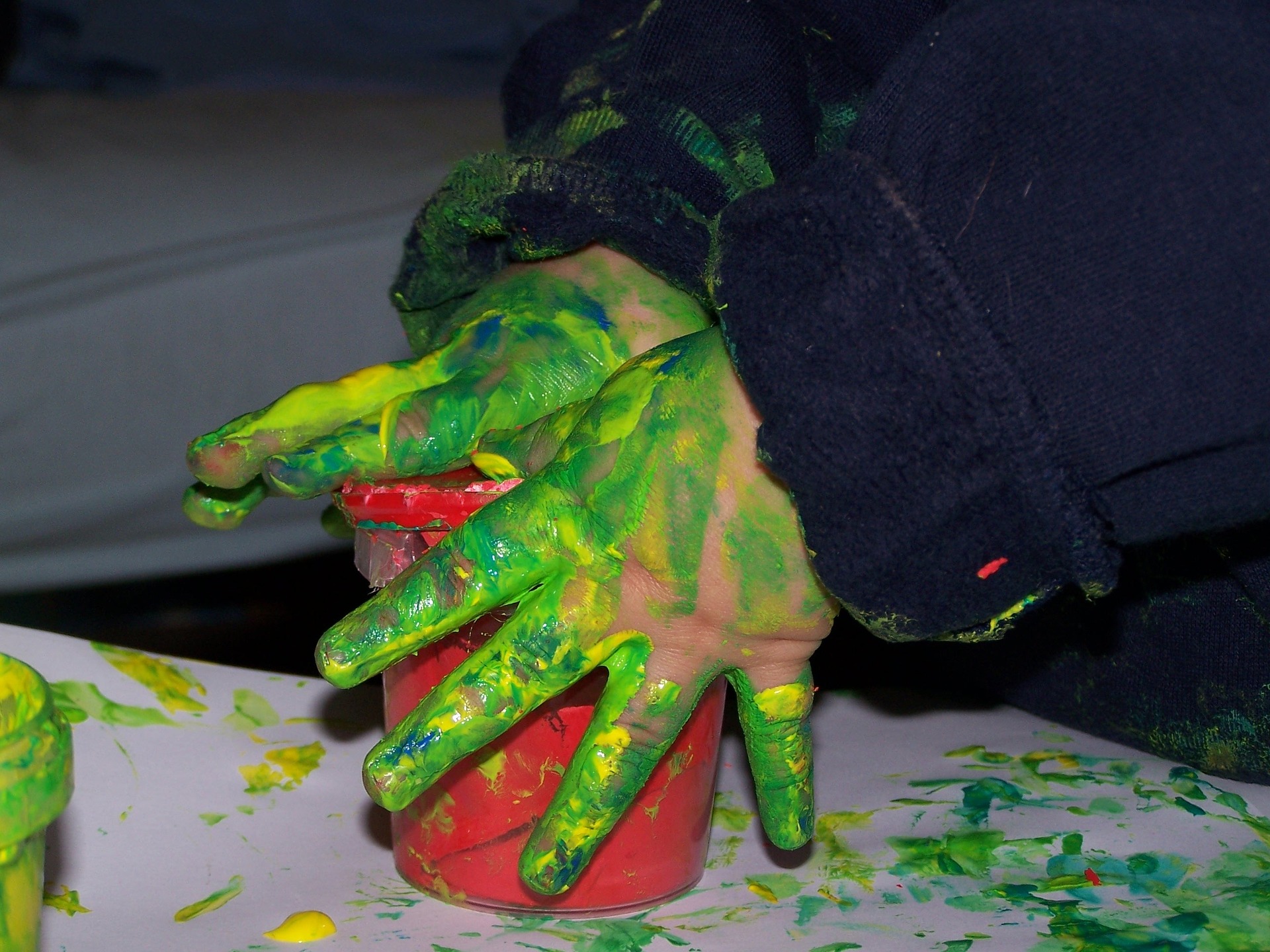 Mix a tiny bit of vanilla essence or cinnamon to finger paint and let your child paint and sniff to their heart's content.
For younger children that are still mouthing things, try making your own edible finger paint.
12. Rainbow grains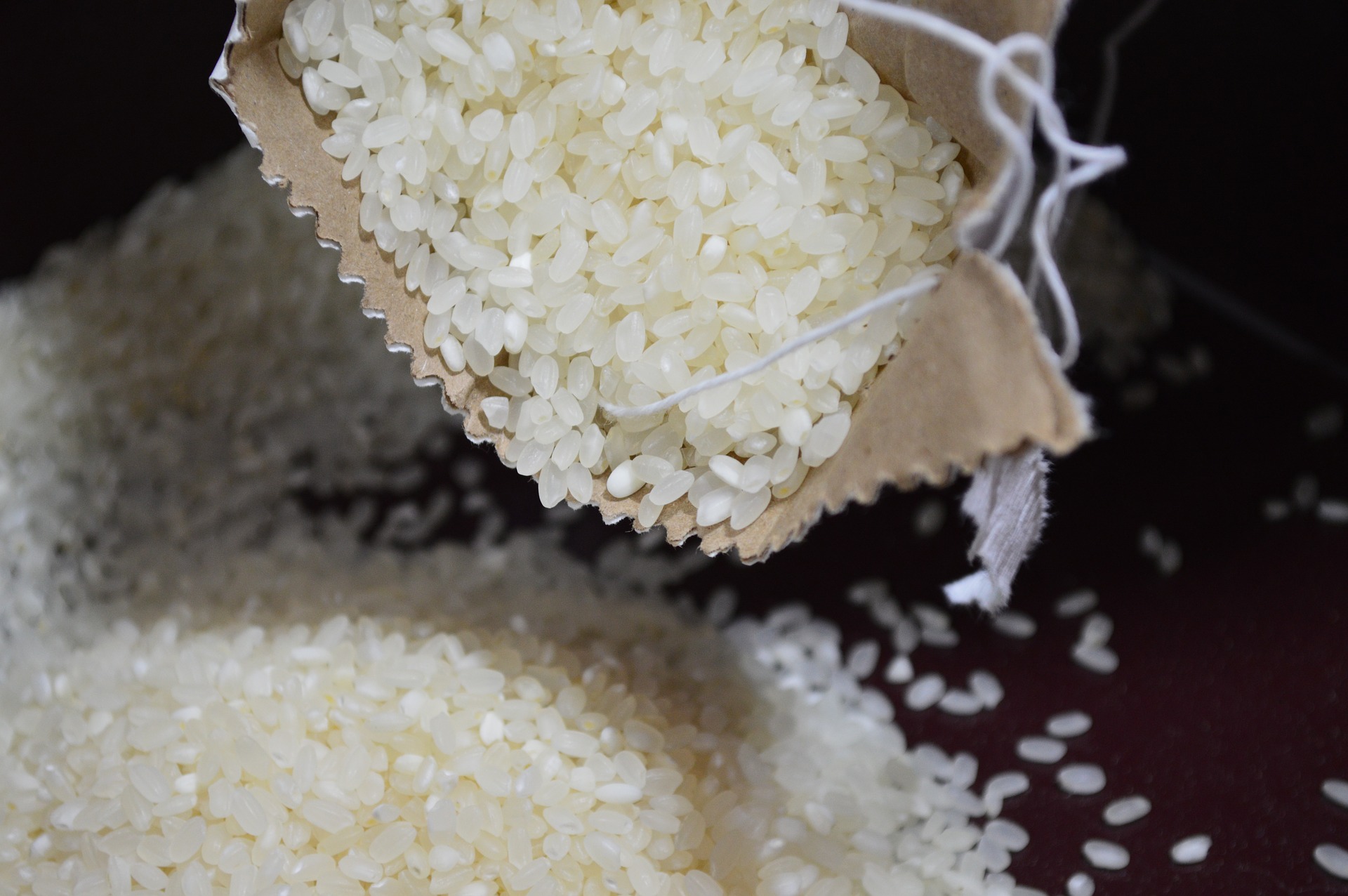 Got some stale rice or popcorn kernels languishing in the pantry?
Give it a new lease on life and turn it into a sensory activity!
All you need to make rainbow grains is food coloring and grains.
In a large food container, add grains, a few drops of food coloring and a tiny bit of water.
Shake everything up to distribute the color evenly, and let grains dry for 4-6 hours.
Place your rainbow grains in a large tub and throw in measuring cups, spoons and funnel.
Tip: Don't stop at rice and popcorn kernels; try dyeing white northern beans, chickpeas and pasta!
13. Doll or toy washing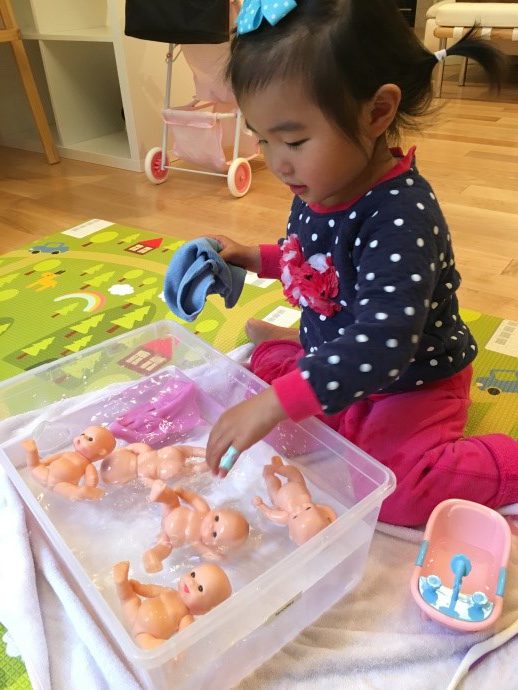 Time to give the toys a bath!
You'll need two tubs (one for soapy water and the other for clean water), a brush or sponge, and dirty toys and dolls.
Let your kid splash, scrub and rinse their toys.
Brush the dolls' teeth and dry them off with a towel!
Tip: place a towel under the box to catch the drips.
14. Beans and pasta play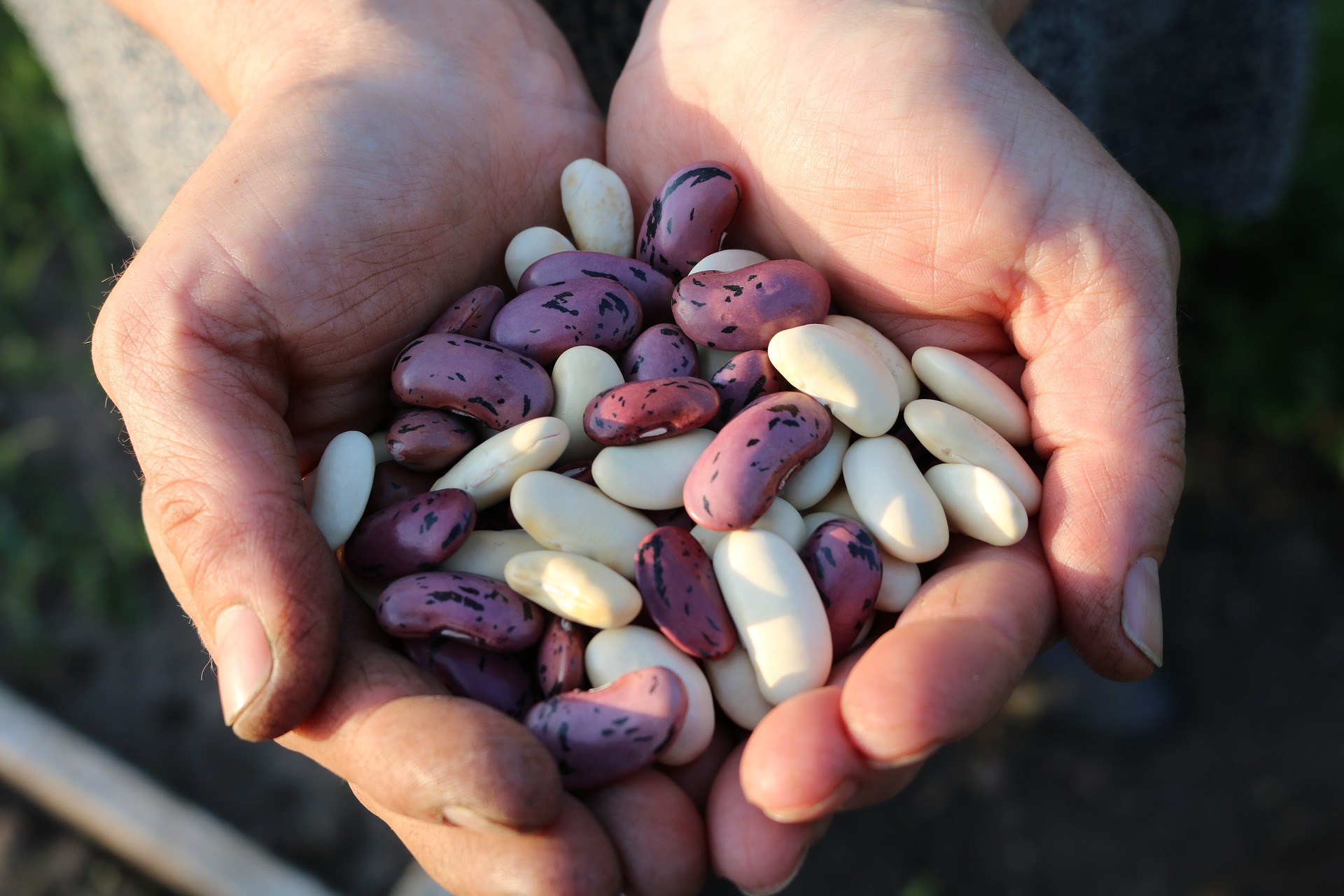 One of the easiest ways to entertain a toddler at home is to make them a bean and pasta box.
Toss a bunch of different colored beans, lentils and pasta shapes into a box, and let your child scoop and pour to their hearts' content!
My tot loves to sort the beans and pasta, then "cook" them on her play kitchen.
Then she'll feed them to her dolls and make them "poop" out the food. LOL.
15. Sensory bottles
These sensory bottles are so mesmerizing and fun to look at.
All you need is a clear plastic bottle, water, food coloring and oil and you are in business!
Your child will love shaking the bottle and watching the oil and water separate.
Go fancy and use sand, beans, glitter, gels, toys and pretty much anything you want.
Just make sure to seal the bottle well before handing it to your child. Tape it shut to make it extra secure.
16. Dishwashing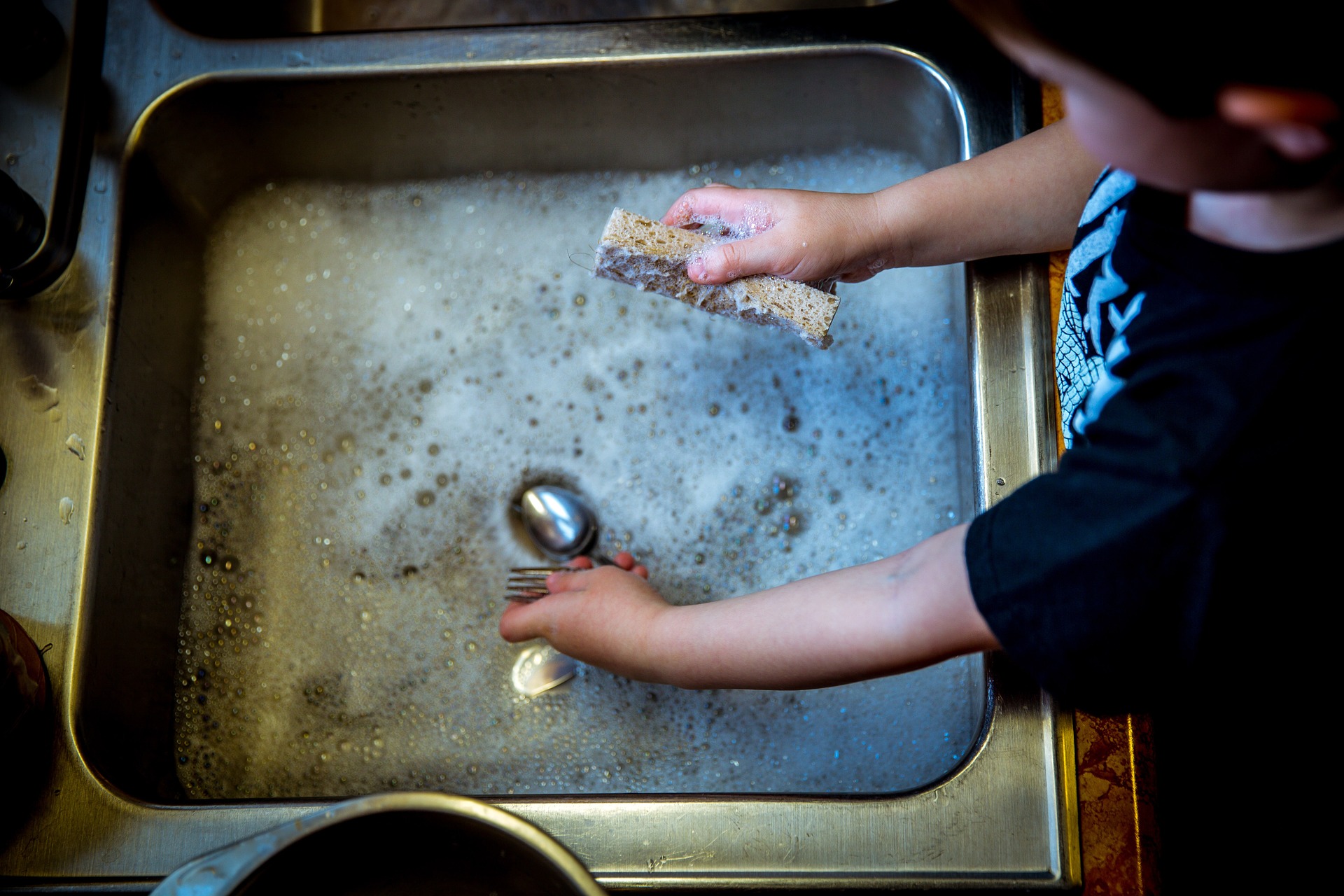 Let your little helper give you a hand with the dishes!
Set them up with a stool at the sink and let them scrub and rinse!
Older kids will have a blast scrubbing, rinsing and drying the dishes.
For younger kids, start with plastic dishes first.
---