Are you looking for your Revlon Colorstay Foundation shade? With 43 different shades and 4 different formulas, we know how difficult it is to find the correct foundation shade.
In this Revlon Colorstay foundation shade finder, we'll show you which Colorstay shade to use depending on your MAC Shade or skin tone.
Or jump directly to our Foundation Matcher page to find your foundation/concealer matches.
Frequently Asked Questions about Revlon Colorstay Foundation Shades
Question: Which are the Revlon Colorstay foundation shades with yellow undertones?
Answer: These are the Revlon Colorstay foundation shades with yellow/warm undertones:

290 Natural Ochre
295 Dune
260 Light Honey
240 Medium Beige
392 Sun Beige
390 Rich Maple
310 Warm Golden
395 Deep Honey
340 Early Tan
460 Macadamia
400 Caramel
370 Toast
380 Rich Ginger
375 Toffee
510 Pecan
600 Cinnamon
Question: Who can wear the Revlon Colorstay liquid foundation shade in 180 Sand Beige?
Answer: Someone with light to medium skin (around MAC NC25) and neutral undertones, can wear 180 Sand Beige.
What are the Revlon Colorstay Foundations?
Revlon currently has 4 different kinds of Colorstay foundations:
#1 Revlon Colorstay Longwear foundation for Combination/Oily Skin
This is the foundation we will be basing our shade finder on because it has the widest range of shades.
This is the original Colorstay liquid foundation that everyone raves about and here's why this foundation is awesome:
it is oil-free and lasts all day through heat and humidity
provides medium to full coverage
it is lightweight and transfer-proof, which makes it great for wearing under a mask
has SPF 16
has a natural looking matte finish
comes in 43 different shades
#2 Revlon Colorstay Longwear foundation for Normal/Dry Skin
This liquid foundation is the more hydrating version of the Colorstay Longwearing foundation line. Here's what to know about this foundation:
it is also oil-free and fragrance-free, and contains hyaluronic acid for hydration
it is transfer-proof and won't smudge under masks
it provides buildable medium to full coverage
has a dewy finish that is best for normal/dry skin
comes in 24 different shades
#3 Revlon Colorstay Full Cover Longwear foundation
This is the souped-up version of the original Revlon Colorstay liquid foundation. Here's what you need to know about this formula:
it is more pigmented than the original Revlon Colorstay foundation so a little goes a long way
covers like a concealer, so you can skip concealer and just use this to cover age spots and blemishes
has a mousse-like texture that is surprisingly great for dry/mature skin
feels lightweight and lasts all day
has a matte finish
suitable for all skin types
comes in 15 different shades
#4 Revlon Colorstay Light Cover foundation
This foundation is Revlon's answer to MAC Face & Body. Here's what to know about this foundation:
provides light to medium coverage that is undetectable
feels lightweight and lasts all day
has SPF34
"clean" formula that is free of pthlates, parabens and fragrances
Best for normal, combination and oily skin. This is not a hydrating foundation.
comes in 12 different shades
How to pick the right Revlon Colorstay foundation shade
Step 1: Figure Out Your Undertone
Broadly speaking, skin undertones fall into 4 categories:

Warm skin tones look more yellow.
Cool skin tones look more pink.
Neutral skin tones are somewhere between yellow and pink.
Olive skin tones have green and grey hues.
Step 2: Find Your Skin Tone Depth
When we describe someone as "light-skinned" or "dark-skinned", we are really describing their skin tone depth.
Therefore, someone with "medium skin tone" would fall somewhere in the middle of the spectrum.
Step 3: Combine Undertone and Skin Tone Depth to Get Your Shade
Now that you've figured out your undertone and skin tone depth, you can use the Revlon Colorstay foundation shade matcher below to find your perfect Colorstay shade.
Revlon Colorstay Foundation Matcher/Shade Finder
Fair Skin Tones
For fair skin tones similar to MAC NC10, NC13 and NW10, try the following Revlon Colorstay foundation shades:
Fair, Cool
Revlon Colorstay foundation in 110 Ivory is for fair skin with cool undertones and fits MAC NW10, NW13 and NW15 skin tones:
Fair, Neutral
Revlon Colorstay foundation in 135 Vanilla is for fair skin with neutral undertones:
Light Skin Tones
For light skin tones that are similar to MAC NC15, NC20 and NW20, try the following Revlon Colorstay foundation shades:
Light, Cool
Revlon Colorstay foundation in 200 Nude is for light skin with cool undertones, and fits MAC NW20 skin tones:
Revlon Colorstay foundation in 285 Shell is for light skin with cool undertones:
Revlon Colorstay foundation in 220 Natural Beige is for light skin with cool undertones:
Light, Neutral
Revlon Colorstay foundation in 140 Oatmeal is for light skin with neutral undertones:
Revlon Colorstay foundation in 150 Buff is for light skin with neutral undertones, and fits MAC NC15 to NC20 skin tones:
Revlon Colorstay foundation in 280 Tawny is for light skin with neutral undertones:
Revlon Colorstay foundation in 275 Cashew is for light skin with neutral undertones:
Revlon Colorstay foundation in 180 Sand Beige is for light skin with neutral undertones, and fits MAC NC20 to NC25, and NC25 skin tones:
Light, Warm
Revlon Colorstay foundation in 295 Dune is for light skin with warm undertones, and fits MAC NC15 skin tones:
Revlon Colorstay foundation in 260 Light Honey is for light skin with warm undertones:
Revlon Colorstay foundation in 240 Medium Beige is for light skin with warm undertones:
Light to Medium Skin Tones
For light to medium skin tones that are similar to MAC NW25, NC30 and NC35, try the following Revlon Colorstay foundation shades:
Light to Medium, Cool
Revlon Colorstay foundation in 270 Chestnut is for light to medium skin with cool undertones:
Revlon Colorstay foundation in 250 Fresh Beige is for light to medium skin with cool undertones and fits MAC NW25 skin tones:
Revlon Colorstay foundation in 320 True Beige is for light to medium skin with cool undertones and fits MAC NW25 to NW30 skin tones:
Light to Medium, Neutral
Revlon Colorstay foundation in 300 Golden Beige is for light to medium skin with neutral undertones:
Light to Medium, Warm
Revlon Colorstay foundation in 392 Sun Beige is for light to medium skin with warm undertones:
Revlon Colorstay foundation in 390 Rich Maple is for light to medium skin with warm undertones:
Revlon Colorstay foundation in 310 Warm Golden is for light to medium skin with warm undertones, around MAC NC35 skin tone:
Medium Skin Tones
For medium skin tones that are similar to MAC NC40 and NC42, try the following Revlon Colorstay foundation shades:
Medium, Neutral
Revlon Colorstay foundation in 315 Butterscotch is for medium skin with neutral undertones:
Revlon Colorstay foundation in 330 Natural Tan is for medium skin with neutral undertones, that is around MAC NC40 skin tone:
Revlon Colorstay foundation in 350 Rich Tan is for medium skin with neutral undertones:
Medium, Cool
Revlon Colorstay foundation in 360 Golden Caramel is for medium skin with cool undertones:
Medium, Warm
Revlon Colorstay foundation in 395 Deep Honey is for medium skin with warm undertones:
Revlon Colorstay foundation in 340 Early Tan is for medium skin with warm undertones:
Revlon Colorstay foundation in 460 Macadamia is for medium skin with warm undertones:
Revlon Colorstay foundation in 370 Toast is for medium skin with warm undertones, that is around MAC NC42 skin tone:
Medium Dark Skin Tones
For medium dark skin tones that are similar to MAC NC44 and NC45, try the following Revlon Colorstay foundation shades:
Medium Dark, Cool
Revlon Colorstay foundation in 355 Almond is for medium dark skin with cool undertones:
Medium Dark, Warm
Revlon Colorstay foundation in 375 Toffee is for medium dark skin with warm undertones:
Revlon Colorstay foundation in 380 Rich Ginger is for medium dark skin with warm undertones:
Revlon Colorstay foundation in 400 Caramel is for medium dark skin with warm undertones, around MAC NC44 and NC45 skin tone:
Medium Dark, Neutral
Revlon Colorstay foundation in 455 Honey Beige is for medium dark skin with neutral undertones:
Dark, Neutral
Revlon Colorstay foundation in 520 Cocoa is for dark skin with neutral undertones (note: this shade is lighter than 440 Mahogany):
Revlon Colorstay foundation in 440 Mahogany is for dark skin with neutral undertones:
Revlon Colorstay foundation in 450 Mocha is for dark skin with neutral undertones:
Dark, Cool
Revlon Colorstay foundation in 410 Cappuccino is for dark skin with cool undertones, around MAC NW45 and NC50 skin tone:
Revlon Colorstay foundation in 500 Walnut is for dark skin with cool undertones:
Revlon Colorstay foundation in 610 Espresso is for dark skin with cool undertones:
Dark, Warm
Revlon Colorstay foundation in 510 Pecan is for dark skin with warm undertones:
Revlon Colorstay foundation in 600 Cinnamon is for dark skin with warm undertones:
Revlon Colorstay Foundation Shade Chart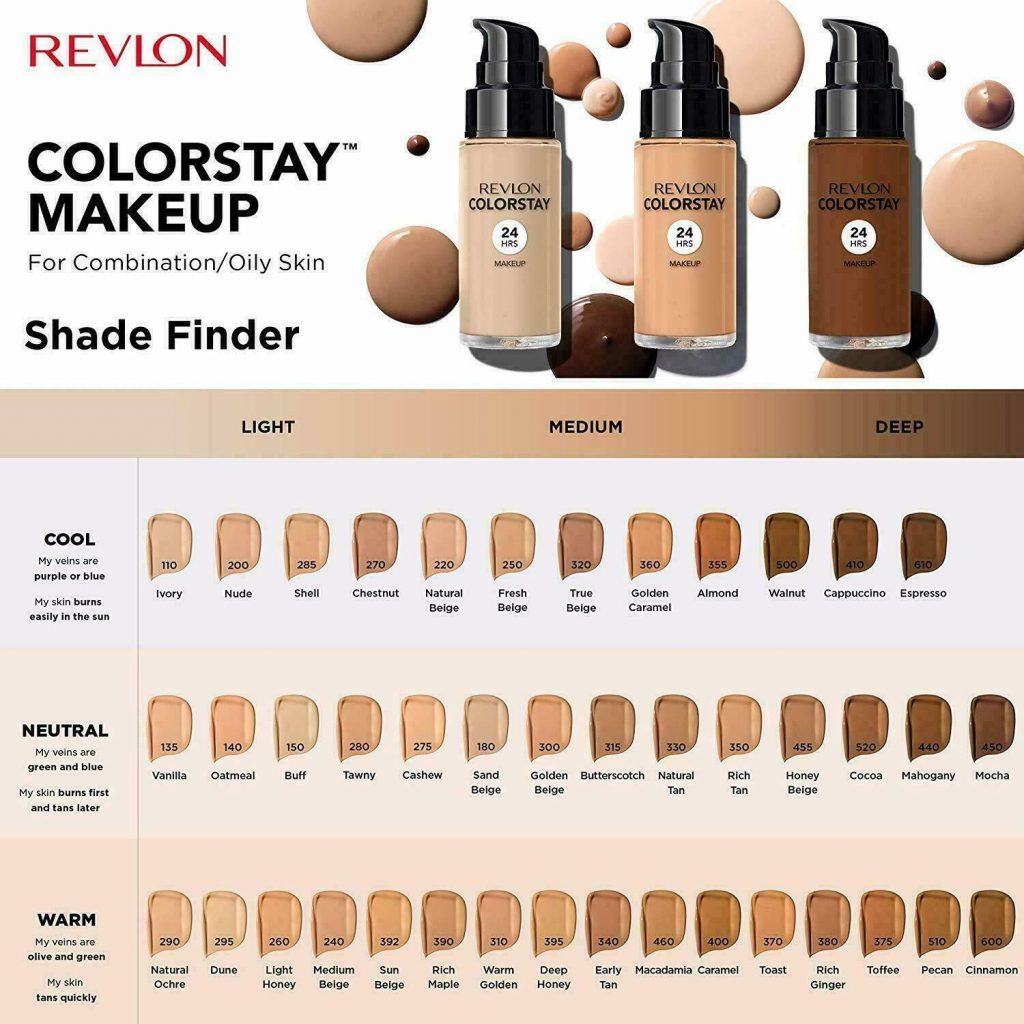 Foundation Matcher
Foundation and concealer shade finders
Popular foundations and concealers
Shade Finders By Skin Tone
Skin Tone Visual Guide
MAC Foundation Shades for Indian Skin
Light and Beige Skin Tones
Medium Skin Tones
Blush Shade Guides
Blush for Fair Skin
Blush for Medium Skin
Image credits: https://www.maccosmetics.com, www.amazon.com