Updated: 6/8/23
If most foundations clog your pores or aggravate your skin, you need to check out the Jane Iredale Purepressed powder foundation, one of the bestselling mineral foundations on the market.
Here's why I think Purepressed is the best foundation for people with acne, rosacea or sensitive skin, and find your shade with our Jane Iredale Purepressed Base shade finder.
Table of contents
All about Jane Iredale Purepressed Base
Jane Iredale Purepressed Base review
As much as I love foundations, I have to admit that most foundations irritate my sensitive skin. Over the years, I've discovered that my skin is happiest with mineral foundations, especially ones that contain mineral sunscreens like titanium dioxide and zinc oxide.
If you have skin like mine that reacts badly to most foundations, then I highly recommend checking out a mineral foundation like Jane Iredale Purepressed Base. Here's what you need to know about this product:
Pros:
recommended by dermatologists for people with sensitive skin, acne or rosacea
semi-matte finish that looks extremely natural
lightweight formula that doesn't feel like you are wearing makeup
suits all skin types, including dry and oily skin
sun protection — mineral SPF 20 (SPF 15 for the deeper shades)
easy application — just brush on and go
environmentally friendly refills are available
Cons:
At around $43, it's pricey but good value because the product lasts on average about 4-6 months with daily use
not transfer-proof so it may transfer onto masks
Frequently asked questions about Jane Iredale PurePressed Base
Question: Does PurePressed Base contain bismuth oxychloride?
Answer: Unlike Bare Minerals, Purepressed powder does not contain bismuth oxychloride, an ingredient that can aggravate acne and rosacea.
Question: Who can wear Jane Iredale Golden Glow?
Answer: People with light to medium skin and warm undertones that looks like MAC NC25 can wear the Golden Glow shade.
Question: Who can wear Jane Iredale Sweet Honey shade?
Answer: Jane Iredale Sweet Honey is a medium shade with warm undertones. MAC NC30 skin tones can wear Sweet Honey.
Question: Who can wear Jane Iredale PurePressed Base in Warm Silk?
Answer: Jane Iredale PurePressed Base in Warm Silk is a light shade with with warm undertones. MAC NC15 and NW13 skin tones can wear this shade.
Fair shades
Fair, Neutral
Jane Iredale PurePressed Base in Ivory:
Fair, Warm
Jane Iredale PurePressed Base in Bisque. MAC NC10 skin tones can wear this shade:
Light shades
Light, Neutral
Jane Iredale PurePressed Base in Radiant:
Light, Warm
Light Cool
Light-Medium shades
Light-Medium, Neutral
Jane Iredale PurePressed Base in Satin:
Light-Medium, Warm
Jane Iredale PurePressed Base in Amber. MAC NC20 to NC25 skin tones can wear this shade:
Light-Medium, Cool
Jane Iredale PurePressed Base in Natural
Medium shades
Medium, Neutral
Jane Iredale PurePressed Base in Suntan
Medium, Warm
Jane Iredale PurePressed Base in Golden Glow. MAC NC25 skin tones can wear this shade:
Jane Iredale PurePressed Base in Sweet Honey. MAC NC30 skin tones can wear this shade:
Medium, Cool
Medium-Dark shades
Medium-Dark, Neutral
Jane Iredale PurePressed Base in Riviera
Medium-Dark, Warm
-Jane Iredale PurePressed Base in Latte. MAC NC35 skin tones can wear this shade:
Medium-Dark, Cool
Jane Iredale PurePressed Base in Teakwood:
Dark shades
Dark, Neutral
Jane Iredale PurePressed Base in Caramel:
Dark, Warm
Jane Iredale PurePressed Base in Autumn:
Jane Iredale PurePressed Base in Fawn:
Deep shades
Deep, Neutral
Jane Iredale PurePressed Base in Velvet:
Deep, Warm
Jane Iredale PurePressed Base in Cognac:
Deeper shades
Deeper, Warm
Deeper, Neutral
Jane Iredale PurePressed Base in Mahogany:
Deeper, Cool
Jane Iredale PurePressed Base in Cocoa:
Jane Iredale Purepressed powder shade chart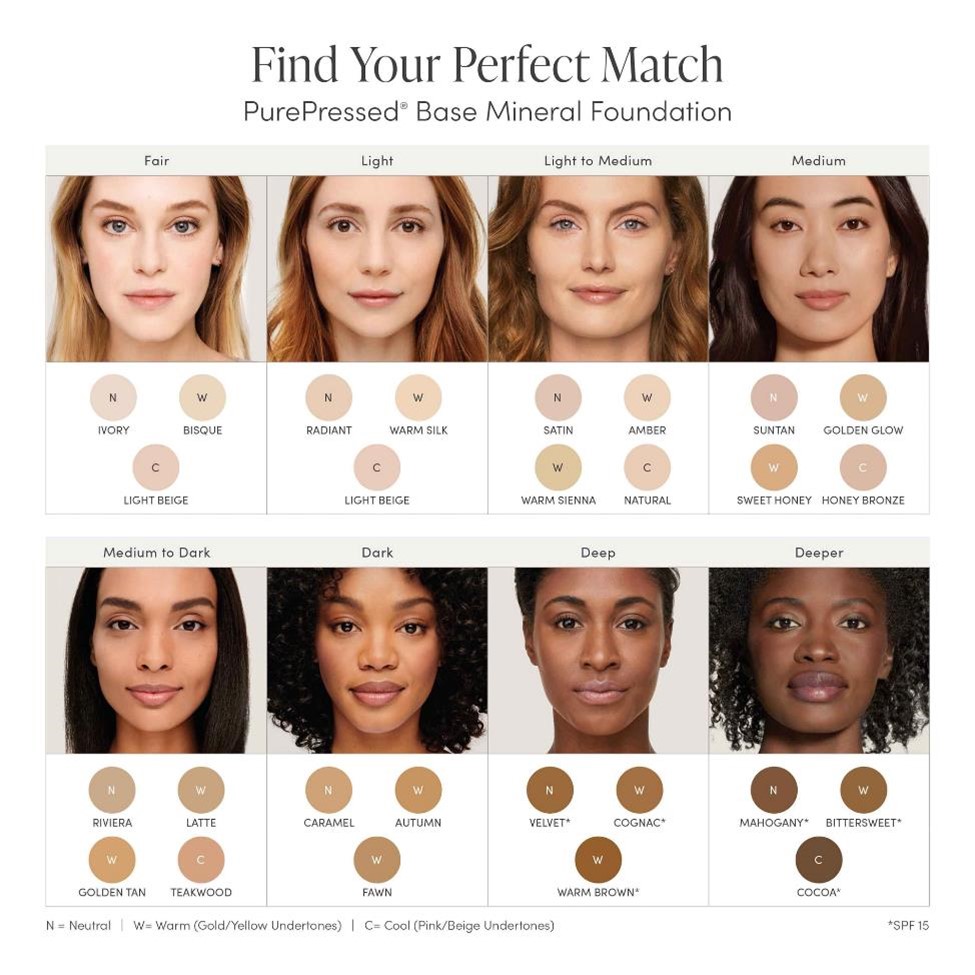 More on Redmond Mom
Image credits: www.amazon.com, www.janeiredale.com